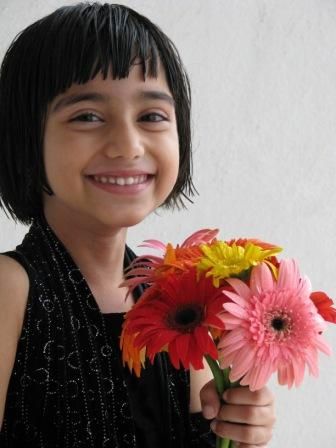 Arushi Bhatnagar is an abstract artist. Born in 2002 in Ujjain, India, Arushi took to art as soon as she was able to dip her fingure in the color and enjoy spreading it on the floor. Since the age of 4 months, Arushi developed an appreciation for her majestic surroundings. She would often giggle and enjoy color play for hours with various colors and sheets, or sit in walker with watercolor and canvas. Now these 8 Years of artistic expression made it clear that Arushi's life would be centered upon her passion for art. Today she's among the top 5 record breaking kids in the world and recognised as "Top 16 women, who anybody will envy" by a Bangkok based website.

Besides Painting Arushi loves photography and has picked up some hobbies like Dancing, Karate and Skating. She has also won a prize in photography.
Arushi is well known as a professional child artist and has sold several art works. She lives in Pune, India with her Parents Vinita Shailendra Bhatnagar.